Latest news
Contact us
ADD: Shanqian Industrial Zone ,Liushi Town , Yueqing City, Zhejiang, China 325605
TEL: 0086-577-62651121 62651123
FAX: 0086-577-62651121
E-mail: amber@cnhkele.com
> LV low voltage switchgear
GCS LV 0.4kv Draw out Switchgear Cabinet
Low Voltage Withdrawable Switchgear
Electrical Control Panel Board
OEM Electrical Distribution Metal Switchgear
Drawable Type AC Metal-Clad Switchgear
Product description: 1.Rated voltage:AC380V,50Hz 2.Rated current:4000A 3.Standards:IEC 439-1 4.Easy operation & installation,Less Maintenance
Product introduction
GCS Low Voltage AC Switchgear, Withdrawable type
1. General Description
1.1 Application: For the power system of industries like power plant, petroleum, chemical industry, metallurgy, textile and tall buildings etc.
1.2 Standards : IEC 439-1
1.3 Parameters: Rated voltage: AC 380V, 50Hz
1.4Rated current: 4000A
2.Features:
2.1.Compact design
2.2.Easy operation and installation
2.3.Reliable interlock
2.4.Less Maintenance
3. Technical Data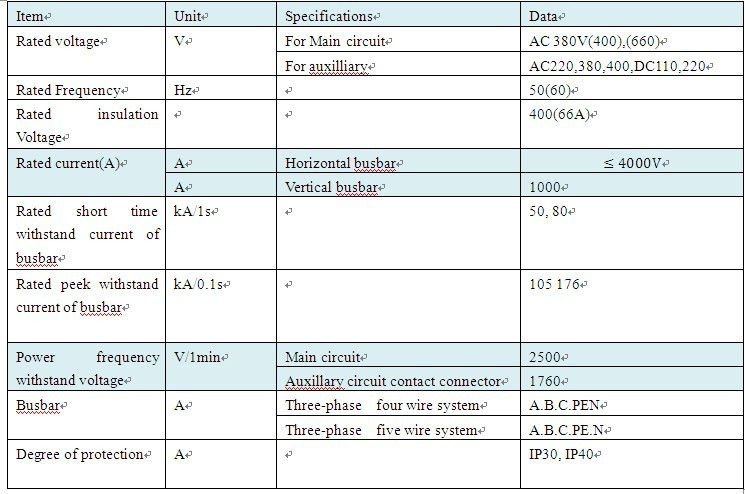 4 Cabinet Body Structure
The main frame of the switchgear uses 8MF or C section material, the frame is assembled or partially welded, all the main frames are installed with modular hole, E=20mm. Each functional room of the switchgear is strictly separated, the compartments mainly include functional unit room, busbar room, cable room, the function of rooms are independent to each other.
5.Type Meaning and specification
5.Construction
5.1.GCS motor control center is divided into inlet cabinet and feeder cabinet.
5.2 The public power unit is mounted at the lower part of cabinet, without occupation of mounting unit compartment.
5.3 The indicating meter, button, control switch and indicating lamp are assembled on the control panel, which is mounted in the front side of each unit and drawn in or out together with the unit.
5.4 The unit drawn in and out by lever, unit with height of 400mm and more is provided with levers both at upper and lower part, which is convenient for operation